Elastomeric Insulation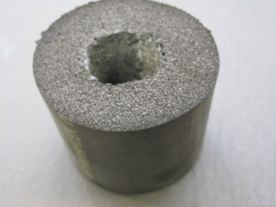 Description
Elastomeric insulation is produced from foaming plastic resins to create predominately closed cellular rigid materials, providing lower thermal conductivity. It is light-weight with excellent cutting characteristics. Available in pre-formed shapes including tube and boards, it is generally used in the lower intermediate and the entire low temperature ranges, for example in heat preservation of central air-conditioning systems, chilled water pipes, condensate pipes, air ducts and hot-water pipes of HVAC equipment. It is the preferred material for low temperature pipes because of the moisture-proof property.
While it has fire retarding capabilities, it is important to keep in mind that it is a plastic material.
Also note that thermal resistance declines and thermal conductivity increases after initial use as the gas trapped within the cellular structure is eventually replaced by air.
Physical Properties
| | | | |
| --- | --- | --- | --- |
| Installed Cost Ref | Density | Max working temp | Thermal Conductivity |
| Medium (more expensive than polyethylene) | 55 kg/m3 | 125ºC | .03 W/m*ºK |
| UV Resistance | Flame Spread | Smoke Developed | Compressive Strength |
| Typically poor, however light stabilized materials perform better | 95 | Over 50 | < 480 kPa (or <70 PSI) |
Back to Appendix B